Production Inc and Cape Town Offer the Very Best in Production and Production Services
Production Inc film director, Bobby Sheehan, recently spoke of his experience in South Africa as being more than something you should put on your bucket list…
"Visiting South Africa is something you should put AT THE TOP of your bucket list."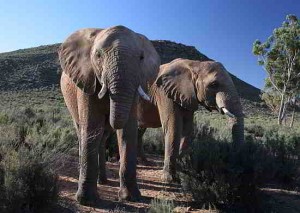 The same can be said for filmmakers, which is another reason Bobby chose to film his poignant Charles Schwab, "Life Part 2" here. "Of all the places to film a commercial about life, where better to film it then where human life essentially began?" Bobby Sheehan, known for his powerful, visual storytelling and one of the most respected doco-style film directors in the world, used South Africa to parallel a message that is important for everyone; a responsible life, leads to a meaningful life. And as a backdrop to such an important message, South Africa was a no brainer. Just as life can be traced back to South Africa, the same may be said one day looking back on today's filmmakers.
Cape Town is a production Mecca, offering the best production value in the world.
In the southern most area of the continent, nestled beneath the majestic Table Mountain (aka Table Top Mountain) is the breath-taking city of Cape Town and a major reason why so many filmmakers and photographers are flocking to this majestic city for their productions.  Similar to Hollywood, Cape Town has everything to offer the filmmaker including a major perk that comes with no strings attached—sunshine, and plenty of it. Dependable weather and 14 hours of daylight in the summer (October through March) coupled with mild temperatures averaging 22-28˚C make Cape Town ideal for filming photo-shoots during the Northern Hemisphere winter. This means European commercial and catalogue productions can have their work completed and "on the shelves" in time for the European summer. And, the sun shines in other areas of Cape Town as well…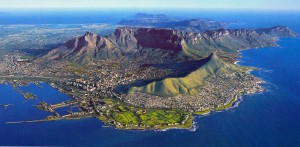 It shines on production value. Cape Town offers a multitude of bottom line friendly options such as competitive, union free and negotiable labor rates, a very favorable exchange rate, a film rebate, and a broad range of co-production options.  South Africa has signed co-production treaties with eight countries: Canada, Italy, Germany, UK, France, Australia, New Zealand and Ireland. This means that any official co-production is regarded as a national production for each co-producing country, making it eligible for any benefits or programs of assistance available in either country. South Africa also has an MOU related to filming with India.
And as a location, Cape Town really does have it all. The geography is diverse and logistically friendly—beaches, mountains, plains, jungles and the airport are within close proximity of one another. In addition to these locations, set construction is world class. In the Western Cape there have been recreations of a Roman  Coliseum, St Helena in the time of Napoleon's exile, a Hong Kong street market, a  Paris fashion show, an Australian sporting stadium, South Beach Miami, 1960s  London as well as numerous other nondescript US cities. Cape Town has Alpine  mountains and lakes, tropical-style beaches, rugged rocky coastlines, rolling wheat fields and mysterious forests. Skyscrapers and quaint English cottages abound, not to mention industrial plants and areas of startling physical beauty.
Locations come with a smile in the form of a film friendly, supportive government making permits easy to get, and city owned location fees affordable.
Additionally, South African crews are known for their experience and professionalism, making them the most cost-effective English speaking crew in the world. South Africa also prides itself in having a very deep roster of talented actors and models, evidenced by the numerous films and photo-shoots that cast locally. Further, Cape Town is EASY—The process to get goods in and out of the country is simple and streamline, the same is for people.  US, UK, EU, Australian, New Zealand and Canadian visitors do not require visas. A letter of authorization from a company like Production Inc is required for visa endorsements and work permits, which is easily and effortlessly arranged. International drivers' licenses are required for foreign visitors, but these are also simple to obtain. Supporting
South Africa's claim and reputation as being a leading film production center are a string of successful international productions filmed here, including "Blood Diamond" (starring Leonardo DiCaprio), "District 9" (produced by Peter Jackson & directed by Neill Blomkamp & starring Sharlto Copley), "Invictus", (directed by Clint Eastwood, & starring Morgan Freeman & Matt Damon), "The Last House on the Left" (directed by Dennis Iliadis & starring Garret Dillahunt & Aaron Paul "(of Breaking Bad") and "Safe House" (starring Denzel Washington and Ryan Reynolds). The TV series "24: Redemption" was also filmed in South Africa, and currently The Weinstein Company is in production of "The Giver" starring Jeff Bridges, Taylor Swift, Meryl Streep and Alexander Skarsgard.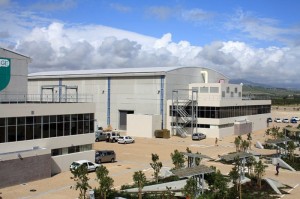 And finally, Cape Town has state of the art post production and production facilities, equipment and support.  International filmmakers and producers can also enjoy the comforts that come with the new multimillion dollar studio and sound stages located on the outskirts of Cape Town.  Recently, the studio hosted a Hollywood blockbuster of a different kind – Black Sails, Michael Bay's gritty pirate adventure series for Starz.   The Cape Town facility has four stages with 75,000 square feet of space, two workshops, a medieval back-lot that was maintained after the Black Sails shoot, a green screen facility and production offices, along with a cinema and state-of-the-art, fiber optic network to send rushes to any location in the world.
Did we mention that South Africa is famous for its breaching Great White Sharks?  But don't worry…In Cape Town there are plenty of surf friendly waters and shark free swimming pools with breath taking views of the city, mountains and beaches.