Production Inc Interview with Director Scott McCullough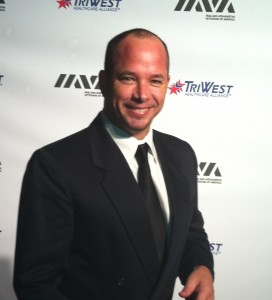 Scott McCullough's filmmaking career began with music videos, but it was in front of the camera, not behind it. At the time Scott was painting and studying to become an architect when an opportunity came up for him to earn some money as an extra on the set of a music video.
While on set, "Suddenly, my whole world seemed to open up, I'm looking around at all of this stuff going on around me, and I'm thinking, this is amazing!"
So Scott took his painting and architecture background and began visualizing everything in terms of storytelling, frames, lighting and shadows. And for money, he would take any production job offered, even the proverbial 'sweeping the floors' and other less glamorous tasks as a production assistant.
"Eventually, all of these menial tasks start to add up, and mean something." In between sweeping the floors, Scott would watch the other directors and at night continue to translate his own visual images in his head to paper. Eventually, he yielded his first camera, and offered to film anyone who needed it, even if it meant working for free. Ultimately, he compiled enough jobs and enough compelling footage, to put together a reel, which he shopped all over town—but this was not tinsel town, this was Viking town, USA. (aka Minnesota)
Scott Mccullough is the youngest of eight children and was born in Minneapolis, Minnesota. Apart from the very cold winters, a land boasting to have over 10,000 lakes and being known for a terrific brand of butter, Minneapolis produced another brand, which has had a great influence on Scott McCullough's career—singer/song writer, Prince.

It was Prince who found himself impressed by Scott's reel. The reel showed great passion, energy and a flair for something new.
Prince hired Scott to direct his music videos, something Scott remembers as a do or die proposition. Minneapolis was a small town in the production world, and one slip up would be very difficult to overcome, reputation-wise. Working with a superstar meant there was no such thing as a second chance, or in other words 99.9% out of 100 is failure—you cannot become Prince and deliver anything less. Being a perfectionist himself, Scott rose to the challenge, always respecting the opportunity, the expectation and the pressure that came with it.
Scott did not buckle under the pressure, he thrived in it. He found Prince's energy infectious, and it reflected in Scott's work. The music videos Scott directed and filmed became the most popular of their time, and are still seen today—they were sexy and kinetic, they were the brand that became Prince. Scott and Prince worked well together, and this laid the foundation for Scott's passion for directing the camera as well as the live action.

Everything Scott has done has been lit by him, shot by him, and he relishes the connection it gives him as a director.
As Prince began to take his show (and Scott) on the road, it was ultimately a different road that came calling when it was time for Scott to expand his creative horizons.  Commercials became a seamless next step for Scott and the genre of auto, truck and racing suited him well. Some of his most memorable spots where for the NASCAR racing brand and helped precipitate its resurgence in popularity back in the mid 1990's. Since then Scott has become a leading director in the auto, truck and racing genre. The genre and Scott's skill set is what caught the attention of Production Inc and Ad Agencies all over the world.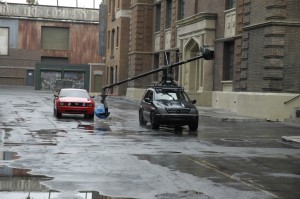 When filming interiors, Scott's favorite piece of equipment is the periscope lens for those close focus shots, he also loves "lots of glass"—lenses that you can use for close focus and as well as the tighter, taller, fuller shots. Outside of the car, Scott has used it all, the Russian Arm, the Ultimate Arm, the big shopping cart with the arm craning out of the back as well as the loosey-goosey stuff—"I've hung outside of a pickup truck, holding the camera going down a race track at 80 mph." His favorite exterior equipment is using the gyroscopic heads and being able to have a lot of options with the camera whether it's a motion or static shot.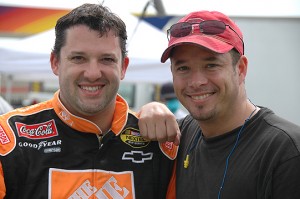 One of Scott's scarier moments came when he agreed to let NASCAR driver, Tony Stewart, drive him back to base camp in a rented crew minivan. Tony decided on an impromptu joyride, pushing the minivan to a maximum speed of 140mph, just a foot from the retaining wall at Atlanta Motor Speedway. In addition to thinking of what would happen if they hit the wall, Scott was wondering what if they blew a tire? It would not have been pretty—"I kissed the ground when we got back to base camp, and promised myself I would never be a passenger with another professional race car driver."
When you have been directing for as long as Scott has been directing, it means you are good at what you do. But, Scott is humble about his recognition and awards. "Awards to me are really an extension of the agency. It's their work. I realize they have been at this for countless days and hours before it is turned over to me—it's humbling that so much time, sweat, tears and money, is invested in knowing that I am going to get it right for them." Scott is not focused on awards, he lives in the moment.
"Awards are the ultimate pat on the back, but my focus is on the brand. Take care of the brand and everything else takes care of itself."
To Scott McCullough, repeat business is his ultimate award. "I'm lucky to be in this business and it's a privilege that people trust me with their brands, their image, their reputations, to get their message across to the consumer in an actionable way." And, experience counts. "Today, anyone can pick up a camera and call themselves a director—and some do a great job of fooling people into thinking so. But anyone who isn't new to this business knows there is more to directing than picking up a camera and shooting something. There are many moving parts—dealing with people, places and things—lots and lots of things—the pressure, the adversity, the opinions, the changes, the second guessing, the spontaneity, the insanity, and most importantly, knowing how to translate all of that into something effective—that, takes experience." Speaking of experience, and of all the commercials Scott has directed, which is his best? "The next one," he says emphatically.