Production Inc Provides Expert Production and Production Services in Amsterdam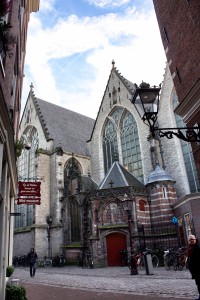 Executive Producer Amour Setter recently crossed the border from neighboring Germany into the Netherlands and Production Inc came away better for it. What greeted Amour was Amsterdam and it was amazing. Its advertising world is buzzing with creativity and its potential is limitless. It didn't take long for Amour to realize Amsterdam is a filming destination every bit as much as any other major production center in Europe. As you would expect, you can find all of the major advertising agencies in Amsterdam, and it was a real pleasure to have met with so many of them. But, Amour's mission went beyond meeting with potential clients; hers was to listen to their needs and to understand how best to serve them both locally and internationally. In short Amour and Production Inc realized very quickly Amsterdam was a place they needed to be.
Production Inc knows that no matter where they are hired around the world, their clients hold them to the highest standards.
For example, when Production Inc decided to enter the Indian marketplace via Mumbai, they knew they had to deliver the same level of excellence; that it was not okay for them to shrug their shoulders and sheepishly say to their clients, "Oh, well, you know—that's India." The client has to have the same experience with Production Inc in Amsterdam as it does in Mumbai, Los Angeles, Prague, Cape Town, Bangkok, Mexico, Namibia, Barcelona, and everywhere else they hang their business shingle.
Some countries pose more of a challenge than others when it comes to being able to offer expert production and production services; and this is where the company you hire will make the difference. Interestingly, Amsterdam has its own unique challenge. Their bar is so high already; the challenge is to distinguish your company among so many great options. Production Inc has always been motivated by such challenges and is excited to bring the same level of excellence to Amsterdam that they do in various other cities around the world. It begins with an extremely competitive quote, followed by an unrelenting commitment to seeing every moving part through to its successful conclusion. Their customer service will never place your needs on hold and it is always served with a contagious smile.
What is so refreshing about filming in Amsterdam is its, "ease of use." To the international filmmaker, Amsterdam is very user friendly and it welcomes you with open arms. It is easy to enter the country, work in the country, find professional crew, be serviced by leading production and post production facilities and to gain access to all of their amazing locations (historical and otherwise): monumental buildings, courtyards, canals, bridges, a modern business district, flower fields, a picturesque beach, dunes, the sea; and all within 15 minutes of Amsterdam Airport Schiphol.
The entire country can be navigated in a matter of hours, offering more than just a boutique feel in terms of its size and a vastness in terms of its options. It gives your production an intimacy—as though it is tailor made for you.
And to cap it all off, enjoying your free time could not be better than Amsterdam. Its social life is world renowned and second to none.
Historically, you may be interested to know that the 17th century is considered Amsterdam's Golden Age, during which it became the wealthiest city in the world. Ships sailed from Amsterdam to the Baltic Sea, North America, and Africa, as well as present-day Indonesia, India, Sri Lanka, and Brazil, forming the basis of a worldwide trading network. Amsterdam's merchants had the largest share in both the Dutch East India Company and the Dutch West India Company. These companies acquired overseas possessions that later became Dutch colonies. Amsterdam was Europe's most important point for the shipment of goods and was the leading financial Center of the world. In 1602, the Amsterdam office of the Dutch East India Company became the world's first stock exchange by trading in its own shares.
Since the city was previously ranked 3rd in innovation by 2thinknow in the Innovation Cities Index 2009 it is no wonder that their creative industries are so successful. Amsterdam is home to some of the most creative minds in the world and their work is both innovative and cutting edge. It has such a unique and visually recognizable landscape, it's no surprise that the city has made its fair share of cinematic appearances over the years. Films shot here include "Diamonds are Forever" (1971), "Turkish Delight" (1973), "Amsterdamned" (1988), "Oceans 12" (2004) and "Saint" (Dick Maas – 2010).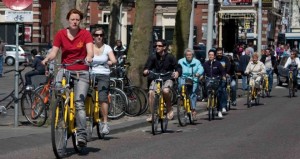 Amsterdam is a very colorful city with a vibrant pulse that seemingly never sleeps. Even their traffic is refreshing because it's often in the form of bicycles. With so many wheels pedaling around you it becomes contagious. And, before you know it instead of dodging the passing cyclist, you soon find yourself pedaling amongst them… while taking in all of the wonder around you.