Production Services in Prague
Why Overseas Filming Makes Good Sense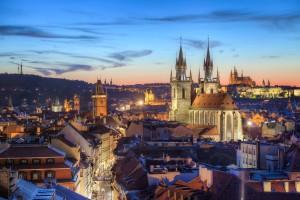 Prague is a great option for those who have a film project suited for this type of location and have a tight budget (want to get it done non union.) Prague has an amazing resume when it comes to Hollywood Films, a number of James Bond Films, Mission Impossible films, The League of Extraordinary Gentlemen, Wanted, Blade I, Blade II, Oliver, Black Sheep, Van Helsing, Running Scared, a couple of Narnia's, Hellboy, From Hell, Bourne Identity, Dune, Amadeus, and many, many others.
The Prague location is also very adaptable – it's not just rural countryside and old world settings. Running Scared with Paul Walker and Vera Farmiga was set in New Jersey.  We filmed 44 out of 49 days of "New Jersey" in Prague, saving a substantial amount of the budget. That's what makes Prague so hard to beat when it comes to filming — it offers a low cost, non-union, tax free alternative with fantastic crew, facilities and equipment.
In fact, Prague has award winning set construction, in addition to 5 Star cast trailers, incredible catering, state-of-the-art camera, grip and lighting equipment, cutting edge special effects, the latest visual effects technology, and full post production services, (including music composition and scoring.)
In addition to great locations and low costs, Prague is a great city to visit and enjoy. There are world class restaurants, plenty of night life, wonderful architecture, and lots of history and art to keep your days full. I've had the privilege of filming around the globe and in all types of locations, and I can truly say that Prague is one of my favorite venues, give all it has to offer in terms of pricing, flexibility, talent and accommodations. It's the total "package."
The best part is that we know Prague so well, you can "sit back" and let us work out all the details. Our staff can put together the budget, arrange all the logistics and schedule all the local talent. And with a turn key solution, you have only point of contact – (plus you get my phone number.)
If you're got a movie or production in mind, and looking for the people to make it happen, on a budget, then give us a shout. Prague is just the ticket to getting the job done efficiently, affordably, and just as important – enjoyably!